Tualatin Shower Door Installation
Shower Door Repair | Shower Door Replacement
So you're going through a bathroom remodel and are having a hard time figuring out the perfect design. You're thinking you want what you see in photos on social media. Something extravagant and bold, something professionally designed that will make your jaw drop every time you look at it. The more modest you however, thinks maybe something quaint, something small and cute, a nice little sanctuary to escape from humanity.
It really is hard trying to decide. But that's where we come in. You see, we're not like other glass companies. We have over 35 years of experience in the glass industry. We pride ourselves in perfect customer service every time. Other companies offer free estimates too, but when we say we offer free estimates what we mean is we'll walk you through everything. We help you design your vision! We'll bring glass samples, hardware samples, and diagrams. We hand-measure every shower enclosure and create a computer generated drawing with full dimensions.
Bringing your vision to life.
There's free estimates – then there's a quality estimate from Town & Country Glass.
When you are building or remodeling a bathroom, or when an accident breaks your shower door glass, Town & Country Glass provides Tualatin shower door installation and repair services – taking out the old and putting in the new for our customers. We are also able to repair the operation of an existing shower door, provided the hardware is still serviceable.
You decide what you deserve.
Town & Country Glass: Tualatin Shower Door Installation & Repair Company You Can Trust
We know there are plenty of choices for Tualatin shower door installation & repair in Oregon. So what makes Town & Country Glass shop the best choice? In a word: our character as a company.
Quick and Efficient
When you are looking to upgrade or repair your shower doors, you want a team that can design and create the ideal enclosure for your shower and bath as quickly as possible so that you can get about the business of getting clean. Once a design is settled upon, and we have the materials we need, we perform our installation fast.
Attention to Detail
We carefully measure and install every shower enclosure job to make sure the result for our customers is long-lasting.
Trustworthy and Respectful
Having someone in your home or place of business for shower door installation is a matter of trust. You can rely on our people being respectful of your space, getting in and out in a professional manner.
Quality Service at a Fair Price
Our goal is to provide you with a quality product professionally installed to meet your needs for a long time to come. We promise a no-pressure, no hard-sell experience – your satisfaction is what we care about. To this end, we provide a design consultant free of charge to help with any part of the decision-making process for your bathroom space. Contact us today to get started with your Tualatin shower door installation & repair needs!
Shower Door Installation & Replacement for New Construction, Remodels, and Updates
From basic framed bathtub enclosures to custom frameless heavy glass shower enclosures, we provide a wide range of finishes, hardware, and glass styles to suit your needs. Our elegant and easy-to-clean glass enclosures add style and openness to any bathroom.
The following descriptions are a beginner's guide to the styles we can source. For all customers looking to make renovations to their bathroom, our complimentary design consultant can help sort through all the technical and stylistic details. Give us a call to get started with a free quote.
Framed Bathtub and Shower Doors
When we say that a shower door is framed, we mean that the glass of the door is wrapped in an aluminum frame. Many smaller showers and tub enclosures have a framed enclosure. They are the cheapest option for shower doors – typically half the cost of frameless – as the frame provides additional support for the glass portion so the glass doesn't need to be as thick. The installation process for framed shower doors is also easier, often requiring only one technician rather than two. These doors look great when newly installed and can last a long time.
Frameless Glass Shower Enclosures
As you can tell from the name, frameless shower doors have very minimal metal – usually only basic hardware to allow for movement. Everything else is supported by the strength of the glass itself, which is 3/8 to 1/2 inch thick. Frameless options are a great modern option when a homeowner wants to create a more open feeling in their bathroom.
Semi-Frameless Bathtub and Shower Enclosures
The semi-frameless style of door is seen on many tub enclosures, though not in too many showers. This setup requires a bottom track, metal on the sides, and a header piece on top. There are panes of glass, at least one of which can roll from one side to the other. The panes themselves are frameless, being supported by the larger frame. With prices typically between those of frameless and framed door systems, semi-frameless can be a great option for your tub.
Shower Door Glass Options
No matter which style of frame you choose, we can provide the kind of glass that suits your design and practical purposes. Glass can be clear or obscured. There are several different patterns of obscuration to choose from. The most popular pattern currently is called rain, which actually looks like rain dripping down.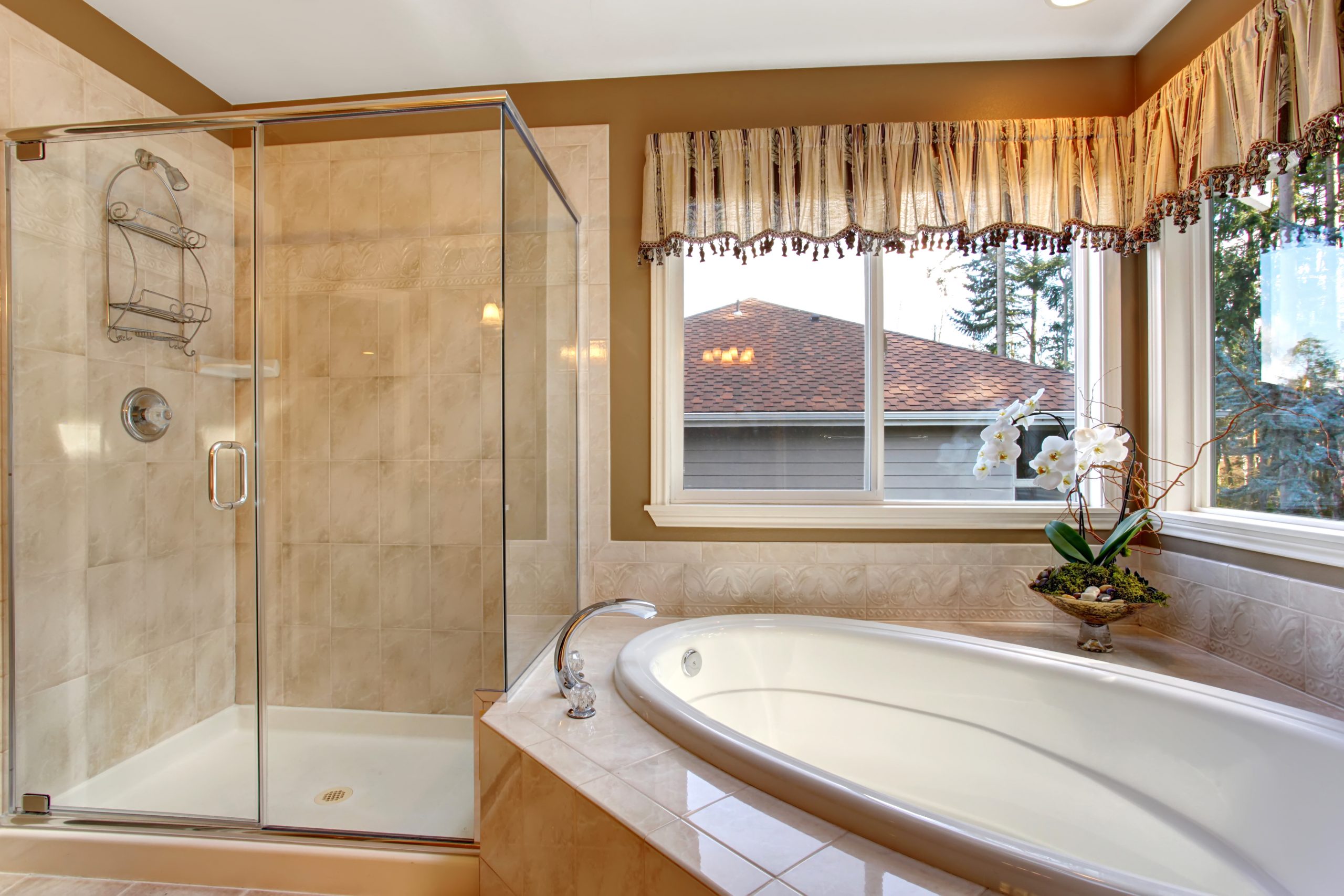 Shower Door Repair
When it comes to shower door repair, there are usually one or two things that are the issue.
Broken Glass
In the event the glass of your shower door is broken – no matter the style or the thickness – our team can measure, cut, and install a piece to replace it quickly, so you can get back to using your shower or tub. We cut the glass for each job to fit your specific situation, which is how your shower door repair team can guarantee a quick and accurate fix – if it doesn't fit, we'll cut it again!
Failing Shower Hardware
Shower hardware, being exposed to large amounts of moisture and accumulated grime, is prone to the decay that comes from repeated use and corrosion. If you're having trouble with your shower door rolling, swinging, or closing, our team will come to where you are and perform the necessary cleaning, adjustments, or replacements to get your shower door working like new.
What Past Clients Say About Glass Services from Town & Country Glass
Every time I have had broken glass it has been a major headache. Most companies are booked out several months; some may not want to do a small job. I had one company say that to send out an estimator, it would be 2 months out. These guys were the exception to this bureaucratic nightmare. Not only were they the best-priced contractor, but I had my broken, exterior glass done within a week of calling. Now THAT is service. Thank you! – Cedric
Matt came first to check the problem then he decided to contact the door manufacturer and got additional information about performing the adjustment. He then came a second time and performed the adjustment. Matt was very professional and performed excellent work in a short time without any problem. – Angie's List Reviewer
I can't say enough good things about this company, but I'll try. We have a vacation home in Welches and had to have a glass door fixed ASAP and Matt and his team saved us. They are professional, reliable, dependable and affordable. They called me back right away, provided a quote and were able to fit me in. They were on time and promptly completed the job and when they left, they everything cleaned-up. I highly recommend them! – Christine
Town & Country Glass Provides Shower Door Installation & Repair Services in Tualatin